A set of six stamps featuring birds which can be sighted in Jersey will be issued by Jersey Post on Tuesday 5 March as part of the 2019 Europa stamp issue, National Birds. Illustrated by Mark Wilkinson, the set includes two Europa stamps which incorporate an innovative feature, enabling those with a smartphone to scan the stamps and hear the sounds of the birds.
Each year, European postal administrations are given a stamp issue title to interpret and illustrate by PostEurop, the trade association that has been representing European postal operators since 1993. The aim of the joint stamp issue is to build awareness of each other's culture and history, with Europa stamps eagerly sought by collectors around the world. National Birds is the title for 2019.
"As birds by their very nature are migratory and representative of countries all around the world, we chose to depict six species which can be sighted in Jersey," explains James Dann, Artwork and Production Executive at Jersey Post. "We were keen to take an original approach to the designs and had the idea of showing the birds, together with their traditional symbolic meanings.
"Mark [Wilkinson], who created the designs for our 2017 issue, Kaleidoscopes, is known for his abstract, surrealist style and was the obvious artist choice. He 'got' the concept straightaway, illustrating the swallow, a symbol of hope and renewal alongside delicate spring blossoms and the kingfisher, a symbol of peace and calm, against the backdrop of a calm sea. Having seen Mark's initial designs, we decided to print the stamps with a blue metallic hot foil which gives them a beautiful iridescent finish."
Featured across the six stamps are: the kestrel, the swallow, the swan, the peacock, the kingfisher and the stork. The two Europa stamps have also been presented together in a Souvenir Miniature Sheet.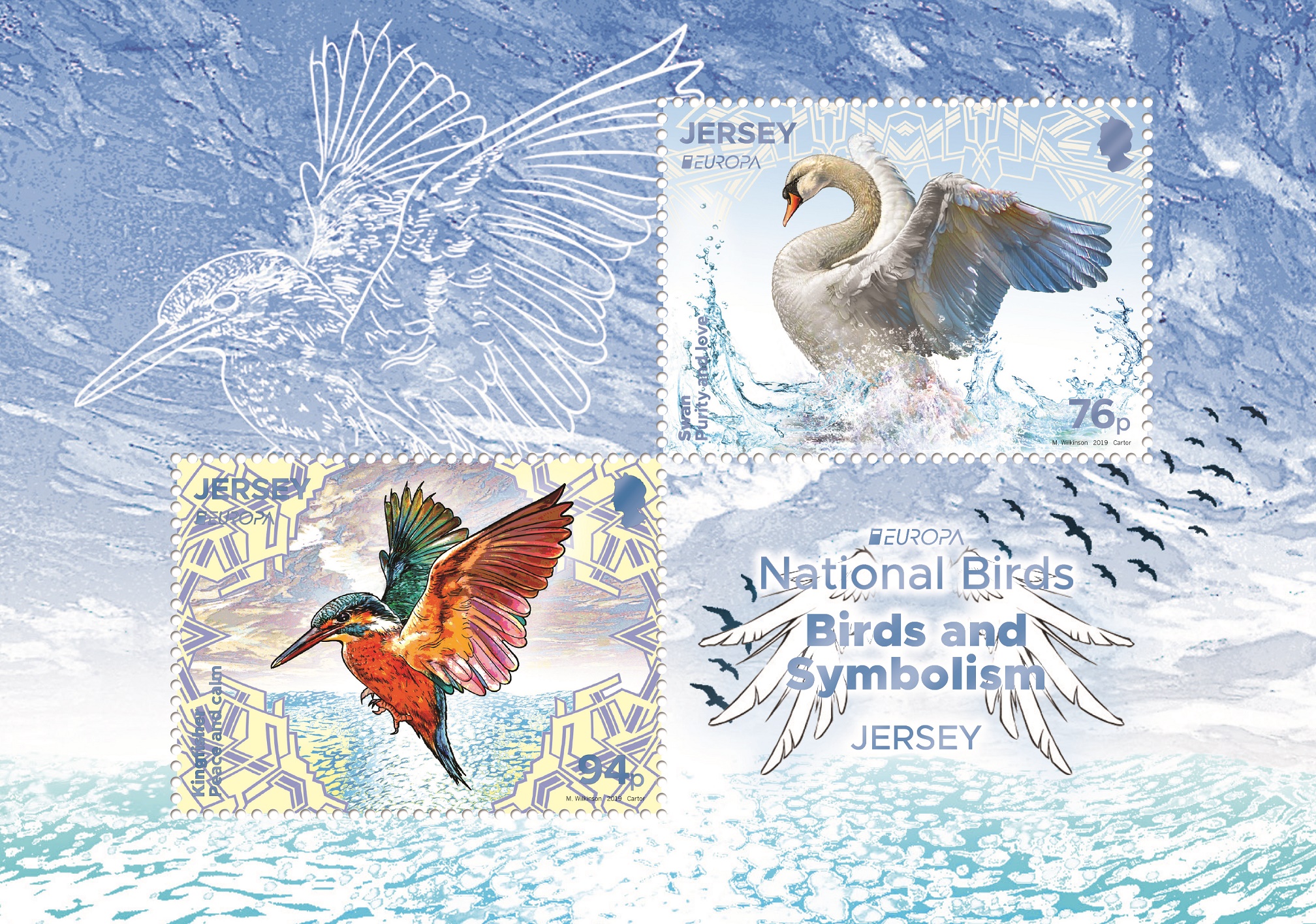 An innovative project for 2019 means that those with a smartphone can download the free CEE app and scan the two Europa stamps (76p swan and 94p kingfisher), to hear the sounds of the birds. Collectors and bird enthusiasts can then visit a specially designed page to view the bird stamps issued by the other PostEurop members participating in the project.
Jersey Post's National Birds stamps will be available to buy from all branches of Jersey Post from 5 March 2019. Philatelic stamp products such as Souvenir Miniature Sheets, First Day Covers and Presentation Packs will be available from the Jersey post offices at Broad Street, St Helier and Rue Des Pres, St Saviour on issue day and can be ordered now at www.jerseystamps.com Alternatively, you can email the Jersey Philatelic Bureau at stamps@jerseypost.com or telephone us on: +44(0) 1534 616717.