Sending: Customs Information
If you're sending Parcels containing goods or merchandise to anywhere outside of Jersey, a customs form is required.
There are two types of form, depending on the value of the items sent. Items with a value up to £270 require a CN22 form and items over £270 require a CN23 customs declaration form.
As of 1 January 2021, it is mandatory for everyone to provide this information to us electronically in the pre-advice they are sending. This is a Universal Postal Union (UPU) and EU requirement and one that is increasingly being enforced with tighter controls being applied by countries in 2021.  For more information, please refer to our Electronic Customs Data section.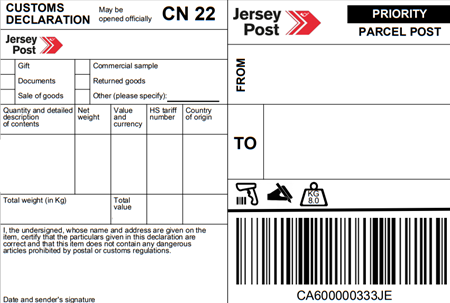 For items to the USA
Completing a customs declaration for outbound commercial mail
The declaration must include a description of the contents and their value. It must also show they are commercial items.
You should also include:
Commodity (HS) codes and country of origin

Enter the World Customs Organization Harmonised System tariff code and country of origin fields on the form. If you are sending more than one item, list these details in the same order as the items in the 'quantity' and 'detailed description of contents' fields.  The country of origin is where the goods were produced, manufactured, or assembled.

Get help classifying your goods.



Sender's name and address

To allow the destination country to process the parcel, please make sure the declaration is completed accurately and in full.  Leaving details off customs declarations can lead to delays, your item being returned to sender or even seizure by customs.

You can get more information from the HM Revenue & Customs (HMRC) website.
Declaring third country exports
If you are shipping goods directly to a Third Country, which will include the EU member states from 1st January 2021, an Export Declaration will be required.
Indirect exports going through the UK will require a Tariff Code to be presented to the Carrier / Shipping Agent before the goods are shipped.
You can get more information from the Gov.je website.
Transit documentation
If you are exporting freight from Jersey to or across Europe, a transit document may be required contact Jersey Customs and Immigration directly on 01534 448088 to receive an application form.
Export licenses
Some goods can only be exported under the authority of an export licence. These include, but aren't limited to, military goods, animal products, medicines, antiques and works of art.
For more information, you should contact Jersey Customs and Immigration directly on 01534 448088.