A set of six stamps and a Miniature Sheet marking 100 years since the first women were granted the vote in Great Britain and Ireland will be issued by Jersey Post on 2 October 2018. The stamps, which have been designed by Hat-Trick Design, London highlight some of the landmark events in the campaign for women's suffrage.
The Representation of the People Act came into force in Britain and Ireland in 1918, providing some women a vote in parliamentary elections. This reform to the electoral system laid the foundations for Jersey's own Franchise Bill, passed in 1919, enabling women to vote on the Island for the first time.
Rachel MacKenzie, Philatelic Marketing Manager at Jersey Post comments: "Typically associated with the demonstrations and protest marches of the suffrage movement, the placards and banners on the stamps have been used to display key moments and successes in the history of women's suffrage. The sash, which appears in the background of each stamp, uses the striking colour palette adopted by the Women's Social and Political Union (WSPU) with white symbolising purity, purple symbolising dignity and green symbolising hope. Whilst different societies adopted different colour schemes, purple, white and green were widely accepted as the British suffrage colours and internationally, purple is still considered a colour for symbolising women today. "
Accompanying the set of six stamps is a Miniature Sheet, which celebrates the formation of the Women's Jersey Political Union. The WJPU was established in 1923 after initial legislation enabling women to vote in Jersey had been passed. Its primary objective was 'to obtain full and political rights for women in Jersey.' The minute book of the Union, which contains details of the early meetings, is now preserved at the Jersey Archive. It covers the period 1923-1928. Although the right to vote had been granted to women over the age of 30 in Jersey at this time, women still held a diminished role in society. The minute book provides an insight into some of the unjust laws that women were fighting against. For example, married women could not claim their vote unless their husbands had already claimed their own vote.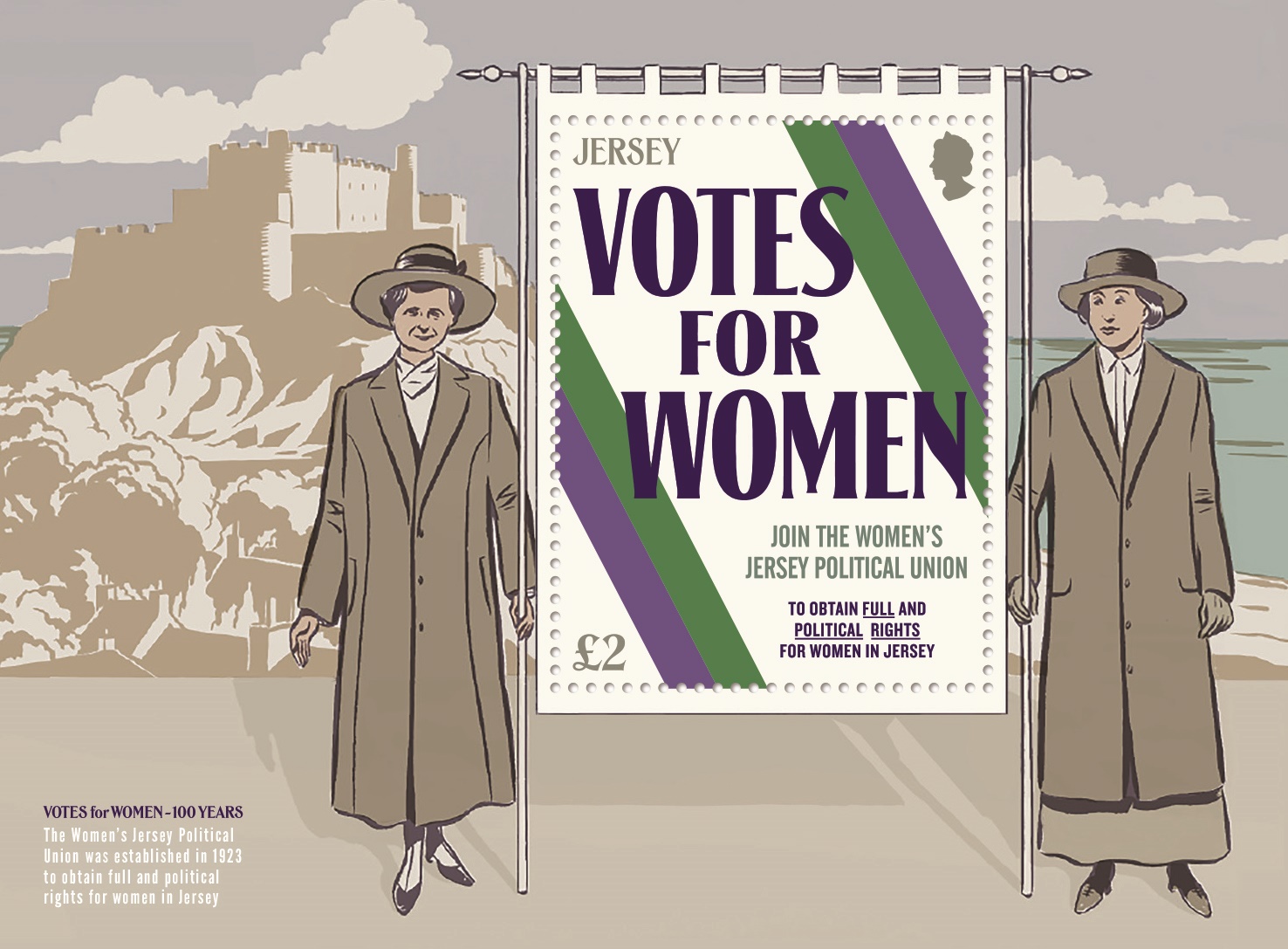 Jersey Post's Votes for Women – 100 Years stamps will be available to buy from all branches of Jersey Post from 2 October 2018. Philatelic stamp products such as Miniature Sheets, First Day Covers and Presentation Packs will be available from the Jersey post offices at Broad Street, St Helier and Rue Des Pres, St Saviour on issue day and can be ordered now at www.jerseystamps.com or by telephoning the Jersey Philatelic Bureau on: 00 44 (0)1534 616717.