50 years since Neil Armstrong became the first person to set foot on the surface of the Moon, Jersey Post will release a set of six commemorative stamps and a Miniature Sheet featuring dramatic illustrations by acclaimed aviation illustrator, Keith Burns.
The Apollo 11 lunar mission, conducted by the United States of America between 16 July and 24 July 1969, was a globally viewed event, culminating in man's first landing on the Moon on 20 July. The event was reported on and watched on television by a worldwide audience of over half a billion people, with Jersey being no exception. Neil Armstrong's first steps on the Moon's surface were broadcast at 3.56 BST, meaning that in Jersey many sat up until the early hours to watch as part of the first all-night broadcast on British television.
The six stamps in this set portray the Apollo 11 lunar mission as it was reported in Jersey, illustrating key parts of the mission alongside a headline or quote from the Jersey Evening Post. The accompanying Miniature Sheet features a black and white television of the time showing images beamed live from the Moon's surface. A headline from the Jersey Evening Post reads: 'Moon rocks like Jersey rocks', commenting on the apparent geological similarity between the Moon and the Island.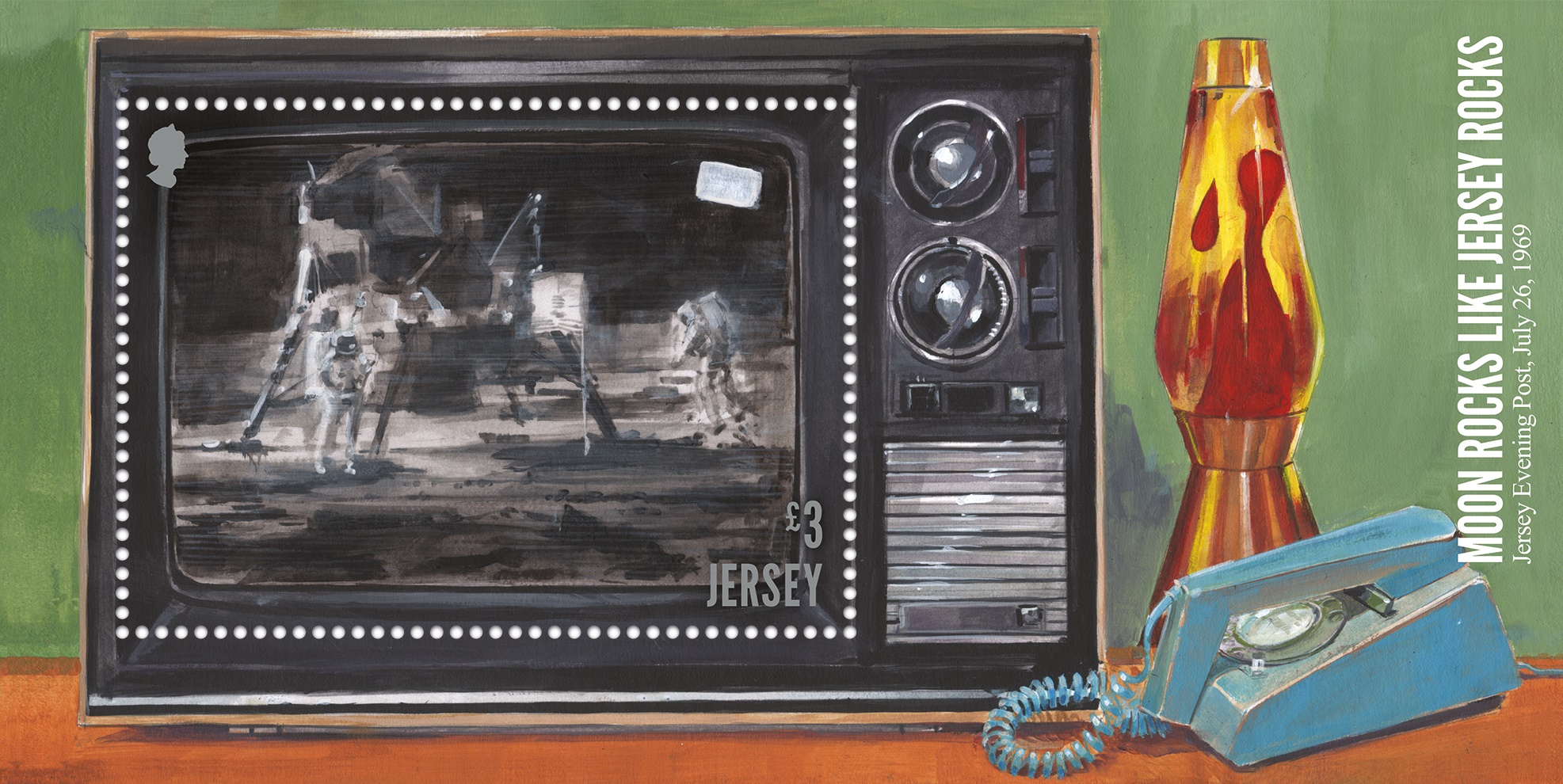 Artist, Keith Burns, comments: "When I was first approached by Jersey Post I was thrilled to learn the brief was to be based on the Apollo 11 moon landings. As an aviation artist, I was a bit anxious but more than happy to be pushed out of my comfort zone. In my artwork I'm interested in storytelling and portraying the physics and kinetic energy involved in flight. I approached the brief in the usual way getting hold of any available plastic kits to build and any relevant books to study. I was really thrilled to see the final product and never dreamed I'd be involved in creating a set of stamps, especially after a very brief period collecting them as a boy when I assumed I'd find a Penny Black."
An award winning aviation artist and commercial illustrator, Keith Burns has illustrated comics for the past decade with Johnny Red being the most recent. In 2012 he joined the Guild of Aviation Artists, in 2015 he won the Messier Dowty award for best acrylic painting in show and in 2016 he was made a full member of the Guild, had his first solo exhibition at the RAF Club in London and won Aviation Painting of the Year.
Jersey Post's Man on the Moon 50th anniversary stamps will be available to buy from all branches of Jersey Post from 20 July 2019. A very limited run of Keith Burns' prints, hand-numbered, signed and framed together with a set of stamps, will be available. Philatelic stamp products such as First Day Covers and Presentation Packs will be available from the Jersey post offices at Broad Street, St Helier and Rue Des Pres, St Saviour on issue day and can be ordered now at www.jerseystamps.com Alternatively, you can email the Jersey Philatelic Bureau at stamps@jerseypost.com or telephone us on: +44(0) 1534 616717.